Diana Catherine Westerfield
1950-2001
---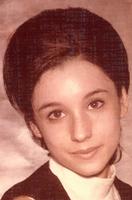 FORT WORTH -- Catherine Westerfield, 51, an artist and poet, died Thursday, June 28, 2001, in Fort Worth.
Funeral: 3:30 p.m. Monday at Christ Chapel Bible Church. Burial: Greenwood Memorial Park. Visitation: 2 to 4 p.m. Sunday at Greenwood Funeral Home.
Catherine Westerfield was born March 7, 1950, in Houston. She was beloved by her family, whom she loved with all her heart. She loved serving people, and was a member of Christ Chapel Bible Church.
Survivors: Husband, Robin Westerfield of Fort Worth; sons, David Westerfield and wife, Courtney, and Stephen Westerfield, all of Fort Worth; and sister, Christina Bumgardner of Minnesota.


Greenwood Funeral Home
3100 White Settlement Road, (817) 336-0584