PREACHING IN A POST-MODERN CITY:: A CASE STUDY I
by Tim Keller, Senior Pastor, Redeemer Presbyterian Church

(continued from page 2)
PREACHING THAT IS CHRIST-CENTERED
MORALISM VS. CHRIST-CENTERED EXPOSITION.
We have said that you must preach the gospel every week--to edify and grow Christians and to convert non-Christians. But if that is the case, you cannot simply 'instruct in Biblical principles.' You have to 'get to Jesus' every week.
For example, look at the story of David and Goliath. What is the meaning of that narrative for us? Without reference to Christ, the story may be (usually is!) preached as: "The bigger they come, the harder they'll fall, if you just go into your battles with faith in the Lord. You may not be real big and powerful in yourself, but with God on your side, you can overcome giants." But as soon as we ask: "how is David foreshadowing the work of his greater Son"? We begin to see the same features of the story in a different light. The story is telling us that the Israelites can not go up against Goliath. They can't do it. They need a substitute. When David goes in on their behalf, he is not a full-grown man, but a vulnerable and weak figure, a mere boy. He goes virtually as a sacrificial lamb. But God uses his apparent weakness as the means to destroy the giant, and David becomes Israel's champion-redeemer, so that his victory will be imputed to them. They get all the fruit of having fought the battle themselves.
This is a fundamentally different meaning than the one that arises from the non-Christocentric reading. There is, in the end, only two ways to read the Bible: is it basically about me or basically about Jesus? In other words, is it basically about what I must do, or basically about what he has done? If I read David and Goliath as basically giving me an example, then the story is really about me. I must summons up the faith and courage to fight the giants in my life. But if I read David and Goliath as basically showing me salvation through Jesus, then the story is really about him. Until I see that Jesus fought the real giants (sin, law, death) for me, I will never have the courage to be able to fight ordinary giants in life (suffering, disappointment, failure, criticism, hardship). For example how can I ever fight the "giant" of failure, unless I have a deep security that God will not abandon me? If I see David as my example, the story will never help me fight the failure/giant. But if I see David/Jesus as my substitute, whose victory is imputed to me, then I can stand before the failure/giant. As another example, how can I ever fight the "giant" of persecution or criticism? Unless I can see him forgiving me on the cross, I won't be able to forgive others. Unless I see him as forgiving me for falling asleep on him (Matt.27:45) I won't be able to stay awake for him.
In the Old Testament we are continually told that our good works are not enough, that God has made a provision. This provision is pointed to at every place in the Old Testament. We see it in the clothes God makes Adam and Even in Genesis, to the promises made to Abraham and the patriarchs, to the Tabernacle and the whole sacrificial system, to the innumerable references to a Messiah, a suffering servant, and so on. Therefore, to say that the Bible is about Christ is to say that the main theme of the Bible is the gospel--Salvation is of the Lord (Jonah 2:9).
So reading the Old Testament Christocentrically is not just a "additional" dimension. It is not something you can just tack on - to the end of a study and sermon. ("Oh, and by the way, this also points us to Christ".) Rather, the Christocentric reading provides a fundamentally different application and meaning to the text. Without relating it to Christ, the story of Abraham and Isaac means: "You must be willing to even kill your own son for him." Without relating it to Christ, the story of Jacob wrestling with the angel means: "You have to wrestle with God, even when he is inexplicable-even when he is crippling you. You must never give up." These 'morals-of-the-story' are crushing because they essentially are read as being about us and what we must do.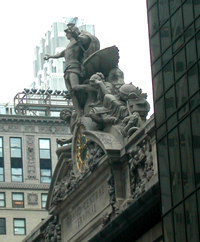 A BASIC OUTLINE FOR CHRIST-CENTERED, GOSPEL-MOTIVATED SERMONS
The following may actually be four points in a presentation, or they may be treated very quickly as the last point of a sermon. But more generally, this is a foundational outline for the basic moral reasoning and argument that lies at the heart of the application.
The Plot winds up: WHAT YOU MUST DO.
"This is what you have to do! Here is what the text/narrative tells us that we must do or what we must be." The Plot thickens: WHY YOU CAN'T DO IT.
"But you can't do it! Here are all the reasons that you will never become like this just by trying very hard." The Plot resolves: HOW HE DID IT.
"But there's One who did. Perfectly. Wholly. Jesus the---. He has done this for us, in our place." The Plot winds down: HOW, THROUGH HIM, YOU CAN DO IT.
"Our failure to do it is due to our functional rejection of what he did. Remembering him frees our heart so we can change like this..."
Discussion:
a) In every text of the Scripture there is somehow a moral principle. It may grow out of because of what it shows us about the character of God or Christ, or out of either the good or bad example of characters in the text, or because of explicit commands, promises, and warnings. This moral principle must be distilled clearly. b) But then a crisis is created in the hearers as the preacher shows that his moral principle creates insurmountable problems. The sermon shows how this practical and moral obligation is impossible to meet. The hearers are led to a seemingly dead end. c) Then a hidden door opens and light comes in. The sermon moves both into worship and into Christ-application when it shows how only Jesus Christ has fulfilled this. If the text is a narrative, you can show how Christ is the ultimate example of a particular character. If the text is didactic, you can show how Christ is the ultimate embodiment of the principle. d) Finally, we show how our inability to live as we ought stems from our rejection of Christ as the Way, Truth, and Life (or whatever the theme is). The sermon points out how to repent and rejoice in Christ in such a way that we can live as we ought.
Case Study #1
If I preached a sermon on "honesty", I could show the forms of dishonesty and how harmful it is, and how we need to ask God to help us be honest. But if I stopped there (and merely called people to ask forgiveness for lying and try harder to be honest), I would only be playing to the heart's natural self-righteousness. I would be essentially supporting the growth of 'common morality' in the people. Those who would be convicted by the sermon would feel guilty and burdened. Those who had not lied lately would be smug. I should admit that nearly every sermon I ever preached on honesty/lying up in my first 15 years in the ministry was like this! Even though I knew (via Ed Clowney) that I had to preach Christ and not moralism from every text, I really just made Jesus an 'add-on'. I didn't apply him as Savior to the actual sin of lying, but to the aftermath only. My sermon would go like this:
I. Here are all the ways we lie, and why they are forbidden.
II. We should not lie, because Jesus told the truth and kept his promises. (Jesus as Example)
III. If we do lie, Jesus will forgive us and help us do better. (Jesus as God-of-gaps)
In other words, I used Jesus as an example, and then as someone who forgives us when, though we try very hard, we sometimes fail. This essentially tells people to sanctify themselves. It implicitly appeals to fear and/or pride as motives for honesty.
But in gospel analysis we ask the question: "why do you lie in a particular situation?" The usual reason we lie is because there is something we feel that we simply must have (besides Jesus) to survive and be truly happy, and so we lie. It is usually a good reputation, or saving face, or approval, or some other thing. I first came to understand this when I realized that my wife and I tend to 'fudge' the truth in very different circumstances. I realized that the underlying reason that I lied/deceived was a fear of people's disapproval.
Using "Luther-ist" analysis, I was trusting in the approval of people rather than in Christ as my functional trust, as my main hope. But anything you add to Jesus Christ as a requirement for a happy life is a functional salvation, a pseudo-lord, and it is controlling you, whether it be power, approval, comfort or control. So the only way to change your habit of lying is to (not just try harder) but to apply the gospel--to repent of your failure to believe the gospel, and see that you are not saved by pursuing this thing (which you are lying to get), but through the grace of Jesus Christ.
Alternatives:
What are the alternatives? Type #1- On the one hand, there is a "Christ as Example" or 'moralistic' sermon that says--"please try harder or God will be very unhappy!". Type #2- On the other hand, there is a "Christ as God-of-Gaps" or 'relativistic' sermon that says--"we all fall down but God loves us anyway!" (Many people today in the Reformed camp smell that 'church growth' theory has led us to more 'relativistic' sermons in the evangelical world. But are we just to go back to the moralistic ones?)
Instead we must do "Christ-as-Savior" or 'gospel' sermons. Unlike "Type #2" sermons, they begin with deep, below the surface repentance, not a superficial application of "Jesus loves you anyway". Unlike "Type #1" sermons, they end with rejoicing, since the thing we must repent of is always a failure to enjoy, delight in, and relish the grace and provision of Christ's work. So this is how I learned to preach sermons on lying--or on anything else. No matter what the issue, if we call people to "try harder", we actually push them deeper into slavery, but when we always solve the problem by applying the gospel, then both a) non-Christians get to hear it every week in multiple perspectives, and b) Christians get to see how it really works in every aspect of life.
Sum:
Only "Christo-centric" preaching can really lead the hearers to true virtue, gospel holiness. Typical preaching only distills "Biblical principles" which do not see the text in its redemptive-historical context. Thus it is only natural that the application part of such a sermon will tend to merely exhort people to conform to the principles. Only Christo-centric preaching can produce gospel holiness.
Case Study #2
A Sermon on Abraham and the Sacrifice of Isaac.
1. We must put God first in every area of life, like Abraham did. (This is where the traditional sermon ends!!)
2. But we can't! We won't! So we should be condemned.
3. But Jesus put God first, on the cross-- His was the ultimate and perfect act of submission to God. Jesus is the only one that God ever said--"Obey me and as a result I will send you to hell." Jesus obeyed anyway--just for truth's sake, for God's sake. The only perfect act of submission.
4. Only when we see that Jesus obeyed like Abraham for us! Can we begin to live like Abraham. Let your heart think like this-
Only when I see God has already accepted me can I even begin to try to live like Abraham. I'd never even start down this road--of Abraham-like obedience. Otherwise I'd not even keep it up. I'd be so discouraged by my failures. But God has already set his love on me, prior to my obedience. Without knowing that, I'd never have the heart to start or keep going.
Only when I see God's already accepted me can I deal with the real reasons I fail to live like Abraham. I put "Isaacs" ahead of Christ because I think they will give me more security and worth than he will. Only by joying in my acceptance will these Isaacs lose their power over me. Without doing that, I'd not have the ability to make any progress at all.
Only when I see that God has accepted me can I really want to live like Abraham for the right, non-destructive reason. As I sit and listen to this sermon about Abraham, I realize I may try to obey God so that he will give me a happy life and family. But if I obey like that, I'm really not obeying him for his sake. I'm using the Law of God to control him, not praise him. Without joying in, seeing, resting in Christ's obedience for me, I'll never be obeying for the right reason, nor even truly obeying at all.
Case Study #3
A Sermon on the power of sexual/beauty's attraction in our culture. I. What you must do: The power of physical beauty over us must be broken. Look at the devastation in our society and in our lives. 1) It distorts women's view of themselves (add eating disorders) 2) it demoralizes aging people, 3) it distorts men's lives, by making them reject great spouse-prospects for superficial reasons (add pornography). What must we do? Don't judge a book by its cover. Be deep. Don't be controlled. II. But you can't: You know quite well we won't be able to. Why? 1) First, we desire physical beauty to cover our own sense of shame and inadequacy (Genesis 3). "When you look good you feel good about yourself" really equals "...you feel yourself to be good." 2) Second, we are afraid of our mortality and death. Evolutionary biologists and Christians together agree that the drive to have physical beauty is a desire for youth. We'll never overcome our problem by just "trying". III. But there was one who did. There was one who was beautiful beyond bearing yet willingly gave it up (Phil.2). He became ugly that we might become beautiful (Is.53). IV. Only now we can change. Only as we see what he did for us will our hearts be melted and freed from the belief that we can judge a book by its cover. Only when we can be in him will we be freed from our sense of shame and fear of mortality.