Blogger and author
Rachel Held Evans
Sunday, Oct. 6, 2013 / 7 p.m.
St. Matthew's Episcopal Church
in cooperation with
Highland Baptist Church & Second Presbyterian Church
FREE
• ~ • Free childcare provided • ~ •
Join us Sunday evening, October 6, as Dimensions of Faith presents blogger and author Rachel Held Evans.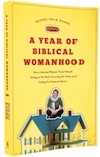 Rachel Held Evans will be the Dimensions of Faith speaker at St. Matthew's Episcopal Church on Sunday, Oct. 6, at 7 p.m. Please join us as St. Matthew's, in cooperation with Highland Baptist Church and Second Presbyterian Church, welcomes this popular Christian author and blogger. In her most recent book, the New York Times bestseller A Year of Biblical Womanhood (Thomas Nelson Oct, 2012), Rachel Held Evans wrote about trying to live the Bible's commands for women as literally as possible for one year. She emerged prepared to take on the traditionalist resurgence that has left many women questioning their roles at home and church.
In its Nov. 12, 2012 review, People magazine declared that Evans' book "champions women, freedom and forgiveness in a way that transcends religion." Slate's online review wrote, "It's possible, in fact, that this is about her brain – or at least what makes it from her brain to her mouth." Evans proudly identifies as evangelical, but not everyone will allow her that label.
Her first book, Evolving in Monkey Town: How a Girl Who Knew All the Answers Learned to Ask the Questions has been called a "humorous yet humble memoir of growing up in the evangelical world. …The story told here is both faith and doubt affirming, a beautiful reflection of a heart earnestly seeking to follow God fully."
With Evolving in Monkey Town, Evans stepped onto the stage as a gifted writer, an honest storyteller, and a compelling voice in the Christian community. "She represents what is most hopeful and promising in a new generation of articulate, intelligent, and faithful young leaders," says author Brian McLaren.
Evans has been featured on NPR, Slate, The BBC, The Washington Post, The Guardian (UK), The Times London, The Huffington Post, and Oprah.com. She was named one of Christianity Today's "50 Women to Watch. "
Visit her online at rachelheldevans.com
---
Dimensions of Faith
Challenging our minds, renewing our spirits
The mission of St. Matthew's Episcopal Church is to be a caring, inclusive community, centered in the Eucharist and grounded in the Gospel, so that we can reach out as Christ's hands to the world.
Our Dimensions of Faith series invites thinkers and writers to explore the interface of religion and culture, as we continue as a parish to challenge our minds and renew our spirits.

Join our mailing list
By filling in your email address below and clicking the "send" button, you will be added to our mailing list to receive information about upcoming Dimensions of Faith speakers. We will not share your email information with anyone.