(Page 2 of 2)
In an interview on Sunday, Mr. Olbermann said that moment — and the perception that he is "not utterly neutral" — restarted months-old conversations about his role on political nights.
Skip to next paragraph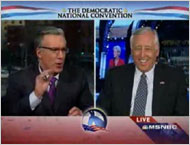 MSNBC
"I found it ironic and instructive that I could have easily said exactly what I did say, exactly when I did say it, if I had been wearing a different hat, and nobody would have taken any issue," he said.
"Countdown" will still be shown before the three fall debates and a second edition will be shown sometime afterwards, following the program anchored by Mr. Gregory.
The change casts new doubt on what some staff members believe is an effective programming strategy: prime-time talk of a liberal sort. A like-minded talk show will now follow "Countdown" at 9 p.m.: "The Rachel Maddow Show," hosted by the liberal radio host, begins Monday.
Mr. Griffin, MSNBC's president, denies that it has an ideology. "I think ideology means we think one way, and we don't," he said. Rather than label MSNBC's prime time as left-leaning, he says it has passion and point of view.
But MSNBC is the cable arm of NBC News, the dispassionate news division of NBC Universal. MSNBC, "Today" and "NBC Nightly News" share some staff members, workspace and content. And some critics are claiming they also share a political affiliation.
The McCain campaign has filed letters of complaint to the news division about its coverage and openly tied MSNBC to it. Tension between the network and the campaign hit an apex the day Mr. McCain announced Gov. Sarah Palin as his running mate. MSNBC had reported Friday morning that Ms. Palin's plane was enroute to the announcement and she was likely the pick. But McCain campaign officials warned the network off, with one official going so far as to say that all of the candidates on the short list were on their way — which MSNBC then reported.
"The fact that it was reported in real time was very embarrassing," said a senior MSNBC official. "We were told, 'No, it's not Sarah Palin and you don't know who it is.' "
Tom Brokaw and Brian Williams, the past and present anchors of "NBC Nightly News," have told friends and colleagues that they are finding it tougher and tougher to defend the cable arm of the news division, even while they anchored daytime hours of convention coverage on MSNBC and contributed commentary each evening.
Mr. Williams did not respond to a request for comment and Mr. Brokaw declined to comment. At a panel discussion in Denver, Mr. Brokaw acknowledged that Mr. Olbermann and Mr. Matthews had "gone too far" at times, but emphasized they were "not the only voices" on MSNBC, according to The Washington Post.
Al Hunt, the executive Washington bureau chief of Bloomberg News, said that the entire news division was being singled out by Republicans because of the work of partisans like Mr. Olbermann. "To go and tar the whole news network and Brokaw and Mitchell is grossly unfair," he said, referring to the NBC correspondent Andrea Mitchell.
Some tensions have spilled out on-screen. On the first night in Denver, as the fellow MSNBC host Joe Scarborough talked about the resurgence of the McCain campaign, Mr. Olbermann dismissed it by saying: "Jesus, Joe, why don't you get a shovel?"
The following night, Mr. Olbermann and his co-anchor for convention coverage, Mr. Matthews, had their own squabble after Mr. Olbermann observed that Mr. Matthews had talked too long.
Some staff members said the tension led to the network's decision to keep Mr. Olbermann in New York for the Republican convention, after he ran the desk in Denver during the Democratic convention. MSNBC said that he stayed in New York to anchor coverage of Hurricane Gustav. But some workers say there were other reasons — namely, that Mr. Olbermann was concerned about his safety in St. Paul, given the loud crowds at MSNBC's set in Denver.
NBC Universal executives are also known to be concerned about the perception that MSNBC's partisan tilt in prime time is bleeding into the rest of the programming day. On a recent Friday afternoon, a graphic labeled "Breaking News" asked: "How many houses does Palin add to the Republican ticket?" Mr. Griffin called the graphic "an embarrassment."
According to three staff members, Jeff Zucker, chief executive of NBC Universal, and Steve Capus, president of NBC News, considered flying to the Republican convention in Minnesota last week to address the lingering tensions.
Up to now, the company's public support for MSNBC's strategy has been enthusiastic. At an anniversary party for Mr. Olbermann in April, Mr. Zucker called "Countdown" "one of the signature brands of the entire company."
Just last year, Mr. Olbermann signed a four-year, $4-million-a-year contract with MSNBC. NBC is close to supplementing that contract with Mr. Olbermann, extending his deal through 2013 — and ensuring that he will be on MSNBC through the next election.