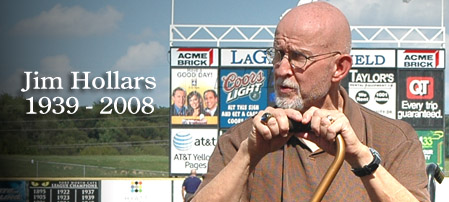 Jim Hollars passes away

Cats' team chaplain Jim Hollars, whose valiant fight against illness served as an inspiration to all he touched, died on Saturday. He was 68.

Hollars, who battled Parkinson's disease for several years, had been hospitalized recently because of aspiration pneumonia.

"The Fort Worth Cats and all other baseball organizations have lost a dear friend and a spiritual leader in Jim Hollars. Jim has shown in the past year a strong faith in his fight against his illness and a true dedication to focusing not on his own difficulties but focusing on the minds and spiritual well-being of our players, coaches and fans," said Cats' owner Carl Bell.

"The Cats would like to send our thoughts and prayers to Jim's wife Shirley and the rest of their family. Jim will always be a treasured as a member of the Fort Worth Cats family."

Hollars joined the Cats in 2002 as the team chaplain after spending three seasons with the Toledo Mud Hens. He was a native Texan who graduated from Texas Tech and Southwestern Baptist Seminary.

After Hollars was hospitalized last September, he summoned the strength to make it to LaGrave Field to witness the final part of Game 5 of the championship series and sing "God Bless America" during the seventh inning stretch, just minutes before Jordan Foster's go-ahead home run propelled the Cats' to their third straight championship.

In his final days, Hollars continued to wear his 2005 and 2006 Cats' championship rings.

"Jim was an inspiration for our entire organization – from our chairman Carl Bell down to the batboys. Every person in our organization who knew Jim Hollars was inspired by him," said Cats' president John Dittrich.

He is survived by his wife Shirley,five daughters, seven granddaughters and one grandson.

Funeral services will be held at Christ Chapel Bible Church in Fort Worth on Tuesday, March 18 at 2 p.m. Cards and other expressions of condolence may be sent to:

Shirley Hollars
4638 Lafayette
Fort Worth, TX 76107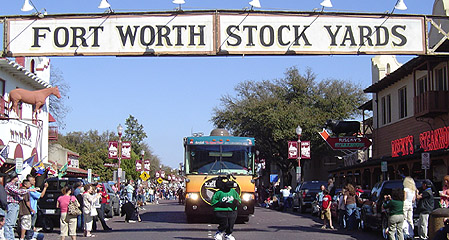 Happy St. Patrick's Day from the O'Cats

Dodger celebrates St. Patrick's Day weekend by taking part in the St. Patrick's Day Parade in the Stockyards.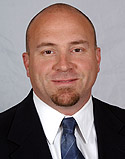 Bilbow featured in Business Press

Cats' Executive Vice President and General Manager John Bilbow is the subject of a feature story in the Fort Worth Business Press this week.

A Cats' executive since LaGrave Field re-opened in 2002, Bilbow discusses the Cats' back-to-back-to-back championships, the history of baseball and the Cats' upcoming season. Click here to read the article



Gulledge at Dodgers' camp

Former Cats' catcher Kelley Gulledge is in camp with the Los Angeles Dodgers at Vero Beach, Fla.

He is currently on the Triple-A roster and is playing regularly. He is pictured here with Cats' owner Carl Bell at Dodgertown.

In his one season with the Cats in 2007, Gulledge batted .302 and led the team with 12 home runs and was selected to the 2007 American Association South All-Star squad.



Cats add infielder James

The Cats have agreed to terms with infielder Willie James on a contract for the 2008 season.

James, 26, began the 2007 season with Sioux City in the American Association where he batted .273 in 16 games with the Explorers before joining the Grays in the Can-Am League. For the Grays, he hit .189 in 25 games before finishing the year with Bradenton in the South Coast League where he played in 34 games and batted .330.

Originally signed as a non-drafted free agent by the Braves organization in 2002, he spent four seasons in their farm system. He was with Myrtle Beach in the Carolina League from 2004 until 2006 when he was called up for six games with the Braves' Double-A squad in Pearl, Miss.

Later in the 2006 season, he played 79 games for Quebec in the Can-Am League where he stole 29 bases, fourth most in the league.

A switch-hitter from Moreno Valley, Calif., James played baseball at Purdue University.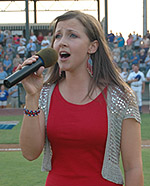 National Anthem Tryouts March 19

So you think you can sing? Would you like to sing the National Anthem at a Cats' game this season?

The Cats will be having their annual National Anthem Tryouts at LaGrave Field on Wednesday, March 19th at 5:30 p.m.

Please bring a performance resume, demo CD (if available), and be prepared to perform. For more information, contact Cody Crume.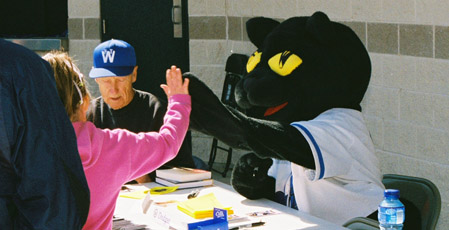 CatsFest 2008

It was a big turnout for CatsFest at LaGrave Field on Saturday. The event started the Easter Seals Walk With Me and continued with lots of hot dogs, beverages, autographs and games. Photo above by Drew Knarr. More Photos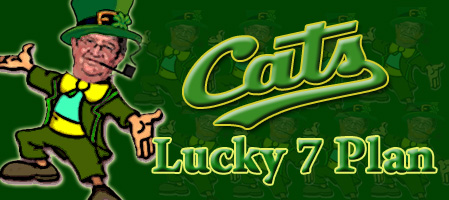 March Lucky 7 Plan

Want a guarantee that you'll get the Cats' Top 7 giveaways in 2008? Well, today's your lucky day.

It's time for the Cats' March Lucky 7 Plan. For a limited time only, you can get a ticket for seven Cats' games featuring our best giveaways -- and, the best part -- you are guaranteed a giveaway item! It's all for just $77.77. Supplies are limited, so make sure you are among the first to get the Cats' Lucky 7 Plan! To order, call 817-226-CATS today.


| | |
| --- | --- |
| Game | Giveaway |
| May 10 | Championship Giveaway |
| May 12 | Back-to-Back-to-Back Champions Commemorative Coin |
| May 30 | Mayor Mike Moncrief Bobblehead Doll/Fireworks |
| June 14 | LaGrave Field Commemorative Coin |
| July 18 | 120th Anniversary Commemorative Coin/Fireworks |
| July 31 | Team Card Set Night |
| Aug. 16 | Team Poster Night |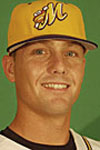 Cats sign Fort Worth's Sisk

The Cats have signed former Arlington Heights High School standout Aaron Sisk to a contract for the 2008 season, the club announced today.

Sisk, 29, started the 2007 season with Edinburg in the United League and played in only 15 games before being signed by the Tampa Bay organization. He then appeared in 72 games with Vero Beach in the Florida State league before playing in five games with Double-A Montgomery at the end of the season.

Sisk spent three seasons with the Edinburg Roadrunners in the Central League from 2003-05, hitting 12 home runs and driving in 50 runs in 2003. He was on the 2004 Roadrunners team which won the Central League title under current Cats' skipper Chad Tredaway.

Sisk was originally drafted by the Blue Jays in the seventh round of the 2000 June draft out of the University of New Mexico. With the Lobos, Sisk was named the 2000 Mountain West Conference MVP and was selected to the All-American team in 1999 and 2000. In high school at Arlington Heights, Sisk was a member of the 1996 Class 4A state championship team and was an All-State selection in 1997.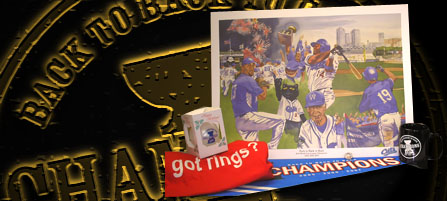 March Merchandise Special:Championship Pack

Commemorate the Cats' 2007 Championship season with our very special Championship Pack.

You get a Cats' Got Rings t-shirt featuring all 16 championship rings in franchise history, a Back-to-Back-to-Back championship coffee mug, a 2007 championship lapel pin, the limited edition championship poster, a 2007 champions Christmas ornament and a Cats' championship pennant.

It's a $44 value, and it's yours for a limited time for just $29.99. Offer only available in person at the Cats' Team Store at LaGrave Field.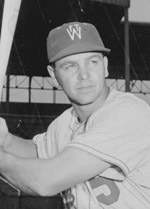 Cats to retire Williams' No. 5
The Cats will honor new Hall of Famer and former Cats' outfielder Dick Williams by retiring his No. 5 jersey in a pre-game ceremony on June 6 at LaGrave Field.

Williams played for the Cats from 1948-1950 and again in 1955. He was part of the 1955 Fort Worth team that featured five future big league managers He hit .300 in three of the four seasons in Fort Worth, including a .317 average in 1955.
Williams managed for 21 seasons in the major leagues and posted a 1,571-1451 record.

His Oakland A's clubs won back-to-back World Series titles in 1972-73. He also led the 1967 Red Sox and 1984 Padres to league championships.
In December, he became the sixth member of the Cats to be elected to the Hall of Fame.
Cats' legendary first base coach Wayne Terwilliger, who has worn the uniform No. 5 since he joined the Cats in 2003, will continue to don that number.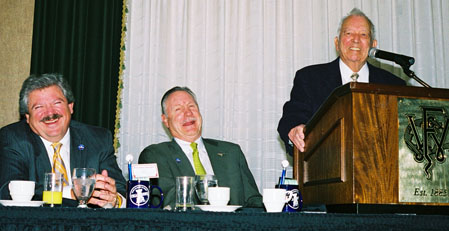 Breakfast of Champions 2008

The Cats held their third annual Breakfast of Champions at the Fort Worth Club on Friday morning. Mayor Mike Moncrief, Maury Wills and Bobby Bragan were among the honored guests.

Above, Bragan enterains the crowd at the lectern as Cats' owner Carl Bell (left) and Mayor Moncrief (right) look on. More Photos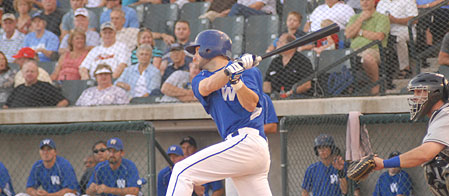 Cats Spring Training schedule

The Cats will play three spring training exhibition games, including two against the new Grand Prairie AirHogs, it was announced today.

The exhibition schedule will begin on Thursday, May 1 at the Parks at Texas Star in Euless with a game against Grand Prairie at 7:05 p.m.

The Cats take on Shreveport on May 4 at Historic Driller Park in Kilgore and round out the spring training schedule on May 5 with a game against Grand Prairie at LaGrave Field in Fort Worth.

The regular season begins for the Cats on May 8 at 7:05 against the Sioux Falls Canaries at LaGrave Field.


Cats' featured on MSNBC website

The Cats were listed No. 9 in the "25 Reasons We Love Fort Worth" feature on MSNBC's website.

"There are no bad seats at LaGrave Field, where the minor-league Fort Worth Cats compete with downtown's skyscrapers in the distance," writes the article's author Kate Appleton.

"During evening games, fans gather by the left-field foul line for the best views of the skyline at sunset — and the city's best burgers, at the ballpark outpost of legendary Kincaid's." Click here for the article.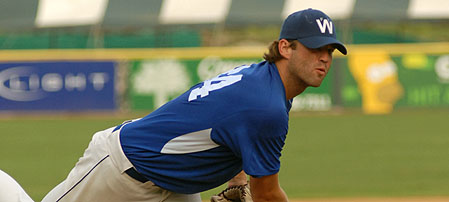 Gwaltney signs with San Diego

The San Diego Padres have purchased the contract of Cats' right-handed pitcher Lee Gwaltney, it was announced today. Gwaltney, 27, will report to Spring Training with the Padres in Peoria, AZ.

In 2007, his first season with Fort Worth, Gwaltney posted a 6-2 record with a 3.16 ERA. In 105 1/3 innings of work, he allowed 95 hits, struck out 59 and walked 30. His ERA was the third lowest in the American Association. Gwaltney was 1-1 with a 2.77 ERA in two playoff starts for the league champion Cats.

He has a lifetime record of 25-29 with a 3.36 ERA in six minor league seasons.

Gwaltney appeared in just three games with the Chicago Cubs' Arizona League team in 2006, going 0-1 with a 5.14 ERA in seven innings pitched. He currently resides in Willow Park, Texas.

He is the 14th player since the Cats returned to Fort Worth in 2001 to be signed by a major league organization, and fourth since the start of the 2007 season.



Check out the new online team store!

New for 2008, it's the new & improved Cats' Online Team Store. Here, you can purchase Cats' gear and other collectibles for the whole family. It's easy and safe to use. Click on the icon on the top right of the home page, or click here: Cats' Online Team Store


Tryout camp to be held at LaGrave Field
The American Association will hold its 2008 tryout camp will be March 27-28 at LaGrave Field in Fort Worth.
All participants are required to pre-register for the tryout. To pre-register, go to the American Association's website. If you do not pre-register, we cannot guarantee you will be able to participate. The cost of the tryout is $30, which can be paid by credit card only. No checks or money orders will be accepted.
Check-in is at 7:30AM on Thursday, March 27. A limited group of players will be invited back for scrimmages on Friday, March 28. The American Association field managers will be attending the camp and a dispersal draft will be held after the scrimmages.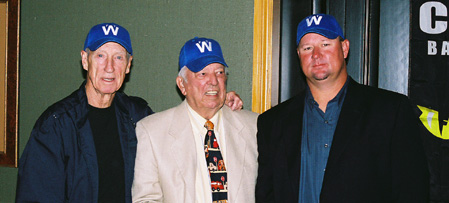 New Cats' skipper Tredaway meets media

The Cats formally introduced their new manager Chad Tredaway on Thursday morning at the Fort Worth Club.

Tredaway was named the Cats' new manager and director of player personnel in October. The four-time Central League Manager of the Year was also the 2001 Baseball America Indpendent Manager of the Year.

Cats' owner Carl Bell and team president John Dittrich also spoke at the media gathering. (Photos courtesy Drew Knarr) More Photos
Star-Telegram article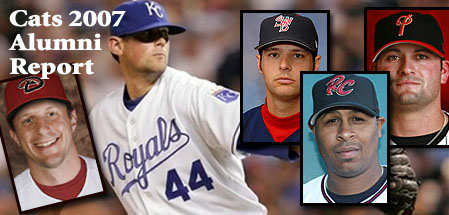 Cats' 2007 Alumni Report

While the Cats were busy winning their third straight title, a number of former Cats were making waves in the affiliated minors.

The Cats had one alumnus appear in the big leagues as Luke Hochevar worked in four games for the Kansas City Royals. Two others appeared at Triple-A (Jermaine Van Buren and Jusitn Hatcher) and three appeared at Double-A (Max Scherzer, Kevin Lynn and Allen Davis).

A look at how Cats' Alumni did in the affiliated minors in 2007.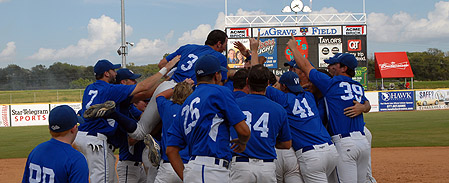 3 IN A ROW: CATS WIN 2007 TITLE!

The Cats are champions again. For the third straight season, the Fort Worth Cats have won the league title after a 4-1 victory over St. Paul in Game 5 of the series on Sept. 9 at LaGrave Field.

Jordan Foster was named the series MVP after his leadoff homer in the seventh inning gave the Cats a 2-1 lead. Fort Worth added two more runs in the frame to take a 4-1 lead. Foster finished the series with eight hits in 17 at bats and a home run. He had 19 hits in the playoffs to lead the league.

Ryan Trytten threw three scoreless innings in relief to earn the win. He allowed just two hits while striking out two notching his second win of the series.

After Kevin Sullivan gave St. Paul a 1-0 lead in the third with a leadoff homer, Carlos Adolfo knotted the game with a solo homer of his own in the fifth inning.

Joel Kirsten started the game and left after six innings because of leg cramps. He received no decision. Justin Lord (2-1) suffered the loss for the Saints as he gave up four runs on seven hits in 6 1/3 innings pitched.

The championship victory concludes a remarkable comeback by the Cats who were down 0-2 in the division series before winning three straight to advance to the finals. In the finals, the Cats fell down 1-2 before winning Games 4 and 5.

Never-say-die Cats win third consecutive title (Star-Telegram)
More Photos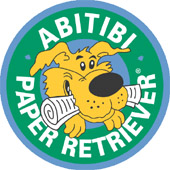 Cats fans can help raise money for local charities by recycling paper

The Cats have added a new member to the team, the Abitibi Paper Retriever® recycling program of Abitibi-Consolidated. The team's "Global Warming Awareness Night" game Monday at LaGrave Field will mark the beginning of a partnership between the two organizations that will benefit both the environment and Fort Worth area charities.

Cats fans attending Monday's game are invited to drop off newspapers, magazines and old mail at the team's new green and yellow Abitibi Paper Retriever® recycling container located in the LaGrave Field parking lot.

The Abitibi Paper Retriever® mascot will be on site to show patrons how they can divert trash from landfills and help Fort Worth area charities in the process. The recycling container will remain at the field after Monday's game and will be available to Cats fans year-round. More info