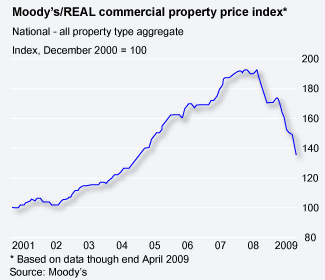 Banking is back, green shoots are poking through the permafrost and investors are partying like its 1999.
But not so fast. A perfect storm is gathering around the commercial real estate sector that could swamp banks, particularly regional institutions, according to consulting firm Oxford Analytica (registration required) — and it could easily dump all over the U.S. economic recovery. First, some scary numbers:
CRE in the U.S. is backed by $3.4 trillion in debt, $750 billion in the form of iffy commercial mortgage-backed securities
CMBS defaults are estimated at $236.1-$291.1 billion
U.S. banks have more than $1 trillion in CRE loans on their books
Roughly $530 billion in commercial mortgages will come due for refinancing between 2009-2011
Delinquency rates for construction and land loans at the end of 2008 was 11.4%
The plunge in CRE prices, which have fallen 30% since 2007, is accelerating, decreasing 8.6 percent in this year's first quarter
Why is the situation so precarious? Because most of the commercial mortgages written during the bubble years of 2005-2007 won't qualify for refinancing under banks' new and improved lending standards. That's key: Even if credit markets thaw, these wildly overvalued loans are potentially in serious trouble. Deutsche Bank analysts estimate that at least two-thirds of CRE loans maturing between 2009-2018, amounting to $410 billion, are "unlikely to qualify for refinancing at maturity without significant equity infusions from borrowers."
And since the hip bone is connected to the thigh bone, the many banks, property developers, retailers, industrial businesses, office complexes, hotels and numerous intermediaries linked in the commercial mortgage market would take a hit if CRE financing hits the skids. That would hurt. All of these companies depend not only a healthy economy to drive business, but on a liquid money market to fuel investment and development.
The domestic CRE sector is only a third as big as the housing market, but it's still a chunk of change, with $3.3 trillion in outstanding commercial property loans, compared with $10 trillion in outstanding residential mortgages. Meanwhile, upwards of 20% of the CRE loans securitized in 2007, the peak of real estate boom, could go bust as borrowers struggle to make payments, according to data out this week from Deutsche Bank, which also forecasts that total defaults on loans securitized between 2000 and 2008 at $236.1 billion to $291.1 billion.
The way commercial loans are written could speed the contagion. Commercial mortgages typically mature faster than residential loans, with terms of 5-10 years, often with sizable balloon payments. If bank lending remains tight, many borrowers won't be able to refinance their loans, raising the risk of default.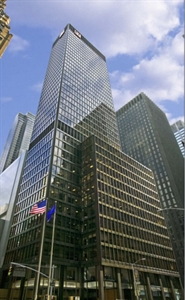 All these data points are starting to hit home. General Growth Properties, the second-largest mall developer, declared bankruptcy in April after failing to renegotiate its debts. In New York, creditors in April moved to claim a 40-story tower owned by real estate baron Harry Macklowe, who had fallen behind on his mortgage payments and who has lost much of his commercial empire during the financial crisis.
Perhaps most vulnerable to a CRE crunch are regional banks, as JP Morgan Chase CEO Jamie Dimon noted in the company's earnings calls this week. That reflects how aggressively smaller banks have sought to expand their commercial property business. As of 1993, less than two percent of U.S. banks and thrifts had commercial property loans worth more than five times their Tier I Capital, according to Oxford Analytica. By 2008 that figure had risen to 12 percent, representing some 800 lenders.
Ratings agency Fitch in June cut its issuer default ratings on two important regional banks, Fifth Third Bancorp and KeyCorp, citing concerns over their CRE portfolios. Meanwhile, a number of smaller banks, including Columbian Bank & Trust, Douglass National Bank and Meridian Bank, have already failed in part because of commercial loan problems, according to industry data.
Optimism is commendable, and there are real signs the economy is healing. Me, I'm keeping my powder dry.